Fremont, Calif., June 28, 2022 – Innergie, a consumer power brand of Delta that won several international certifications and awards, today announced the launch of the C6 60 W USB-C adapter for Innergie's flagship "One For All" Series. The latest C6 adapter takes advantage of Gallium Nitride (GaN) technology and boosts charging efficiency for consumers by up to 91.5%.
The new C6 adopts GaN instead of traditional Si-MOSFET components to optimize its electrical circuitry and to enhance power efficiency. Equipped with high-power delivery, the C6 automatically detects the output voltage for any device and provides fast charging for a wide range of 3C products. The C6 lowers operating temperature by 10 degrees Fahrenheit at 60 W full load charging—compared to Innergie's previous 60C Pro generation of adapters.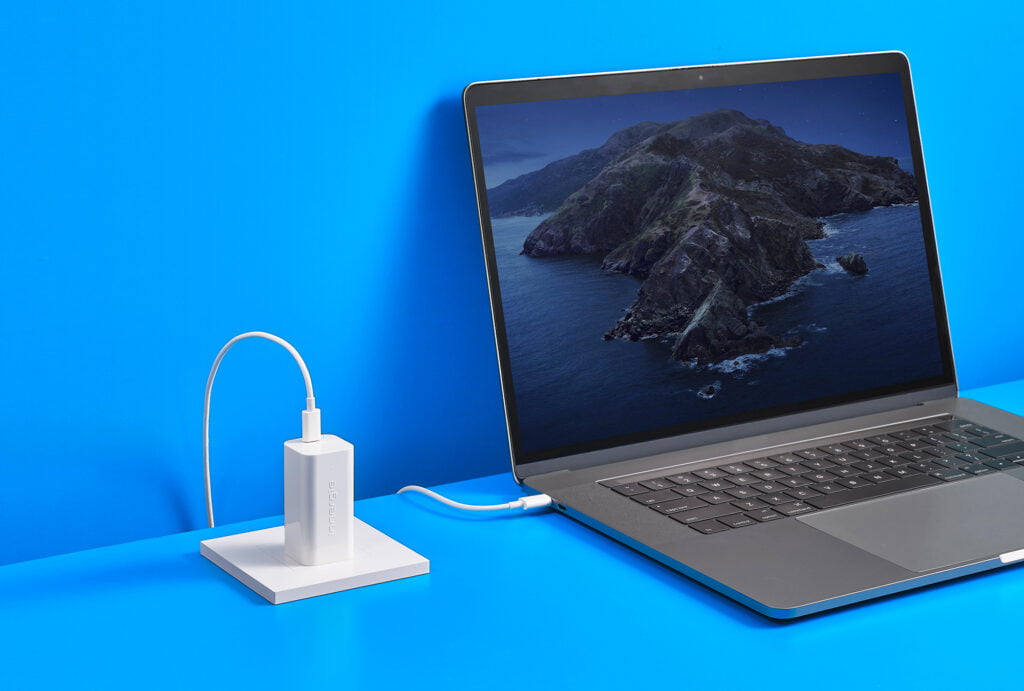 Since working from home (WFH) is the "new normal," seamless integration across multiple devices is a critical factor in determining energy efficiency during WFH. Innergie's "One For All Series" adopts USB-C—the dominant connector primarily used by most smart devices—to support a power range spanning 30 W to 63 W. The series features PD 3.0 fast charging and output power customization for different devices by utilizing dynamic power allocation technology. Now users can charge laptops, mobile phones, tablets, earphones, game consoles and other devices. Innergie will continue to deploy GaN technology for new products in the "One For All Series" line—bringing efficiency, simplicity and convenience to our daily lives.

For more information about the Innergie C6
Available on Amazon for $47.99: https://amzn.to/3JYSi3e

About Delta
Delta, founded in 1971, is a global leader in switching power supplies and thermal management products with a thriving portfolio of smart energy-saving systems and solutions in the fields of industrial automation, building automation, telecom power, data center infrastructure, EV charging, renewable energy, energy storage and display, to nurture the development of smart manufacturing and sustainable cities. As a world-class corporate citizen guided by its mission statement, "To provide innovative, clean and energy-efficient solutions for a better tomorrow," Delta leverages its core competence in high-efficiency power electronics and its ESG-embedded business model to address key environmental issues, such as climate change. Delta serves customers through its sales offices, R&D centers and manufacturing facilities spread over close to 200 locations across 5 continents.
Throughout its history, Delta has received various global awards and recognition for its business achievements, innovative technologies and dedication to ESG. Since 2011, Delta has been listed on the DJSI World Index of Dow Jones Sustainability™ Indices for 11 consecutive years. In 2021, Delta was also recognized by CDP with leadership level ratings for its substantial contribution to climate change and water security issues and named Supplier Engagement Leader for its continuous development of a sustainable value chain.
For detailed information about Delta, please visit: www.deltaww.com
About Innergie
Innergie, a brand of Delta, is a leading provider of consumer power adapters with Delta's 50 years of advanced technical experiences. To provide innovative, clean and energy-efficient solutions for a better tomorrow. Innergie offers more eco-friendly adapters for consumers. Our "One For All" products reduce the clutter with one simple charging solution. With expertise in compact power technology, Innergie designs and produces chargers for your home, workplace and mobile life.