What is Gallium nitride (GaN)?
Gallium nitride (GaN) is a very hard and stable third generation semiconductor material that has the ability to operate at much higher temperatures and voltages. With fast switching speeds and high efficiency advantages, the GaN-based IC chip is widely used in electronic chargers. However, the GaN-based IC chip alone is not enough to create a highly efficient and compact charger. An ideal charger can only be produced by integrating a GaN-based chip with different ICs, with various electronic parts and an optimal circuit design.
What are the characteristics of GaN?
GaN devices are characterized by their high functioning efficiency, but a high functioning frequency is usually accompanied by high radiations. One must consider user safety when GaN is used in consumer electronics. Therefore, in order to commercialize a safe and optimal controlled GaN IC-based printed circuit board, minimizing inductance in the power supply and drive circuit while balancing product efficiency Note 1 and safety specifications is a must.
Does the charger have to be equipped with GaN technology?
It depands. Innergie has not launched any GaN-based products in the past because Delta was able to create the most powerful and smallest 60W charger in the market without using GaN material. Even now, 60C Pro still outperforms most of its competitors in the market. Moreover, Innergie did not want to rush implementing immature technology into its products by taking the risk of producing more electronic waste.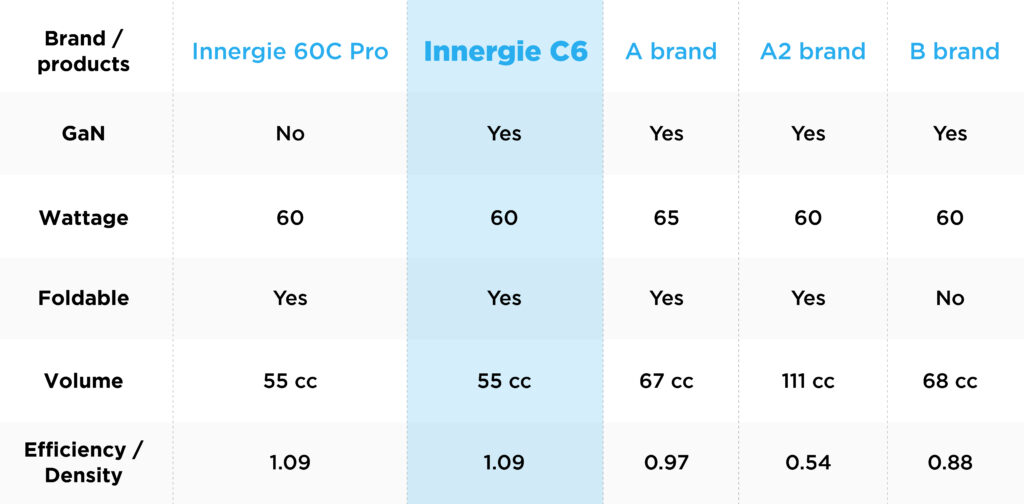 Future application of GaN technology
With recent developments and ongoing process advancements in the product's roadmap, Innergie has decided to implement GaN application in our products by reforming the "One For All" for circuit design optimization and modularization purposes. C6 is the first GaN charger product launched by Innergie. In the future, GaN technology will be widely applied to Innerge's new products, including high wattage and existing products from the "One For All" series. It is noteworthy that the GaN chips used for Innergie "One For All" power adaptors are tested and verified with high specifications that exceed industry standards to ensure the stability and safety of our products.
Without a doubt, GaN is a groundbreaking third-generation semiconductor material that has raised great interests in various science and technological applications (even in space science). However, such "black technology" requires the integration of other device material and optimal circuit design to achieve its full performance potential.