Haven't been abroad for a long time? It's time to review the knowledge of travel electricity!
As the epidemic slows down, are you ready for a new travel journey? In addition to preparing passports and visas, don't forget to prepare power adapters that comply with local regulations, to let your electronic belongings don`t run out of power.
Corresponding adapters in various countries
Before traveling, it is recommended to check the universal plug specifications of the destination on the Internet to avoid the compatible issue. The following is a brief introduction to the five common international conversion plugs: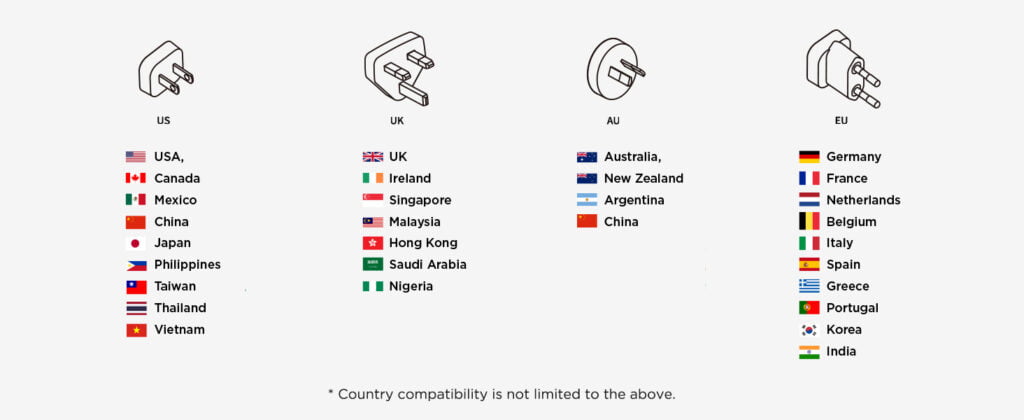 American regulations (US): Type A
Taiwan is a US-standard plug, which can be used directly in Canada, Mexico, Japan and other countries
European regulations (EU): Type C
Universal in Europe and other countries
British regulations (UK): Type G
Compatible with the UK, Singapore, Malaysia and other countries
Australian regulations (AU): Type I
Compatible with Australia, New Zealand and other countries
Korean Regulations (KR): Type F
for South Korea
*Only available in Korea
Why do we "not recommend" All in One Universal Adapter?
Most travelers will prefer to buy All in One Universal Adapter to deal with the problem of inconsistent specifications of foreign sockets, but in fact, the quality of Universal Adapter on the market varies, which may pose a safety risk!
Lack of international safety certification for chargers: There are many universal adapters on the market that lack the safety certification for charging plugs in various countries. Most of the passed inspections are for electrical appliances, not for the chargers. There are even some suppliers who put the safety code on the product packaging, but it is not really a corresponding safety code. It is recommended that consumers not only search for safety codes by hand, but also identify safety certifications such as CE, UKCA to ensure electricity safety when purchasing.
Risk of current overload: Many people often charge multiple devices at once using Universal Adapter that has many sockets, and use adapters that do not comply with safety regulations, which can easily cause overheating and cause the socket to burn and cause danger! Recently, the well-known Internet celebrity Clio shared that she used an all-in-one adapter to charge the device at her home in Taiwan, but the adapter become so hot and even melted!
Complex charging structure: too many sockets connected can cause hanging problems, leading to loose connections of the charger, which can easily damage the charger and the loose connection may disrupt the flow of electricity, leading to an arc. In addition, because the connection structure is complex, gaps are more likely to allow metal oxidation and "dirt conductivity," which can lead to potential charging hazards.
Why is Innergie`s World Travel Plug Kit charger safer?
Therefore, regardless of the charging situation, when it comes to electrical safety, one should adhere to one principle: Keep simplicity, and avoid complicated equipment connections.
Convenient and worry-free to use: Innergie's World travel plug kit charger has a patented switchable design, which can change the direction of the charger and make the charging port easier to operate. It can also flexibly arrange socket space. Compared to the complicated universal adapters on the market, Innergie's World travel plug kit charger simply changes the type of plug through the conversion of the pins, making it safer and more intuitive to use!
Easy interchangeability of plugs from different countries: The charging head of the conversion charger can be changed to different country plugs at will. The Innergie world travel plug kit comes with four specification charging plugs (US, EU, AU, UK), supporting more than 150 countries, eliminating the need to bring a universal adapter when traveling abroad and saving luggage space!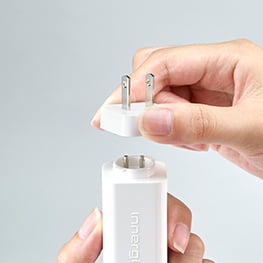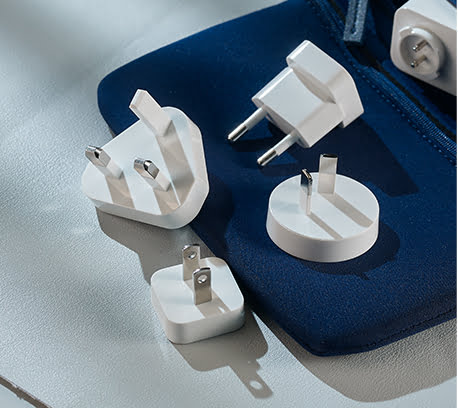 Recommended products [One For All Power Adapter (Single Plug) version]
C3 Duo (Single Plug Version) – 30W Dual USB-C Power Adapter
C6 Duo (Single Plug Version) – 63W Dual USB-C Power Adapter