Innergie PD Technology comes with Dynamic Power Allocation, allows you to auto detects and calculates the power needed for your device, include shift power between solo and dual ports charging scenarios. Smart, Effortless!
Let`s check below comparison between Innergie and other brand Dual USB-C charger: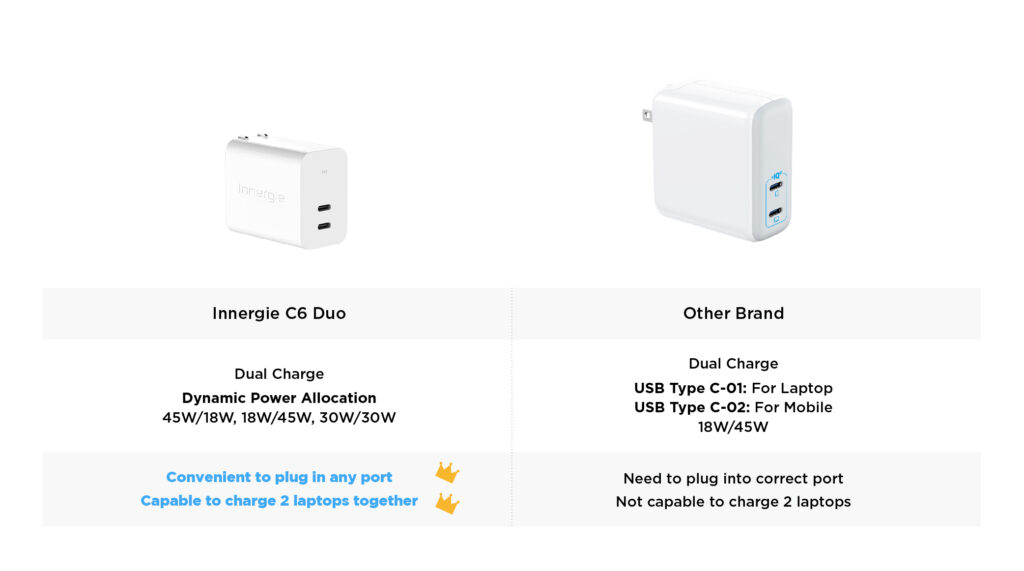 What makes Innergie C6 Duo different with other 60W Dual USB-C Charger?
Innergie technology comes from Delta Electronics, the leading power supply provider in the world. To achieve above benefits, the main technology comes from the unique intelligent algorithm. Through the MCU and sophisticated expert system, the charging behavior and compatibility of the device can be judged among thousands of complex possibilities, and optimize the calculation of Power distribution. In the end, it allows any device to get the most appropriate charging efficiency through any port. It also shows the engineer's craftsmanship and willingness to put in the effort to turn complex charging requirements into a simple and more intuitive charging experience.