When Apple stopped providing power adapter for iPhone, the searching game of proper power adapter became serious. While looking for new power adapters and cables, you should consider below 3 factors to choose wisely:
Check your devices
Find out your device usage habit
Select product from a reliable brand
What devices do I have? Find out the charging standard and the charging protocol supported by your devices.
This will help you to find synergy in your different charging scenario. For example, when you have several USB-C devices, it is smart to upgrade your original USB adapter to an USB-C adapter, since a properly made USB-C adapters and device can communicate with each other. The right combination will offer you PD fast charging across different devices. There are dozens of adapters in the market, how to know if a USB-C adapter is following PD protocol? Check the packaging or the print on the device. A USB-C adapter supporting PD fast charging should indicate the output voltage for 5/9/15/20V. To take care more, Innergie adapters added 12V in our charging protocol to be compatible with more devices, such as power bank and some special laptops.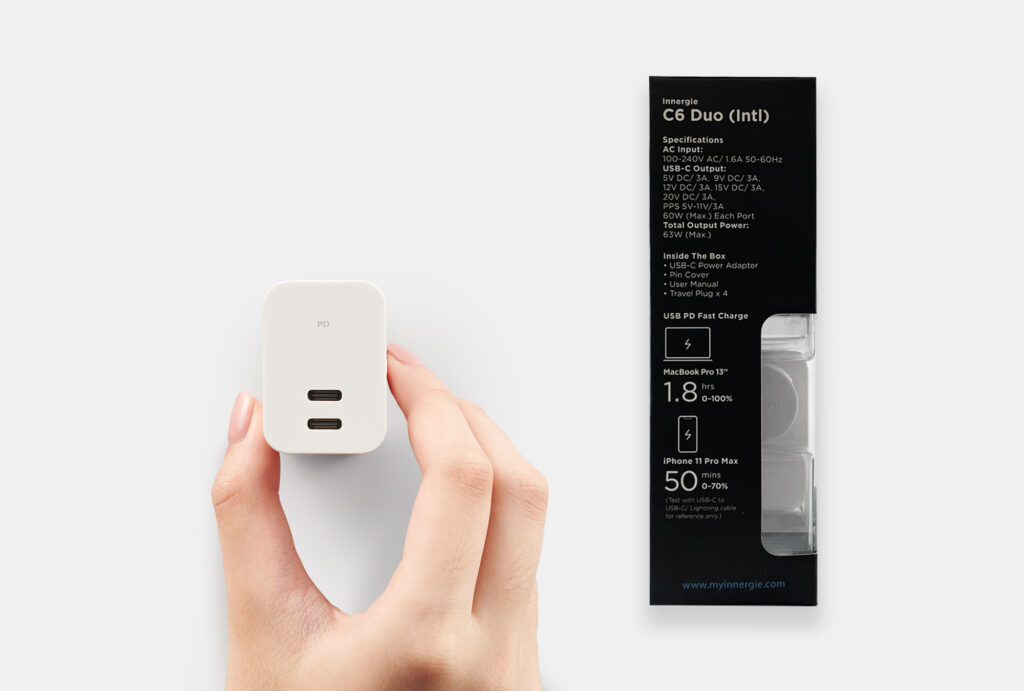 Every Innergie One For All adapter supports PD fast charging. You only need to consider the range of your devices to pick the most suitable adapter:
Innergie C3 Duo, C6, and C6 Duo adapters additionally support PPS (Programmable Power Supply) that can charge more efficiently and better for the battery health when your device applies to PPS. (What is PPS?)
What is my using/charging habit?
If you carry 2+ devices with you regularly, a two-port adapter will be your best option to have since it is normally more compact than 2 single-port adapters. And you need only one wall socket to charge two devices at the same time. Additionally, when you also pick your adapter and cable wisely, you only need 1 adapter and 2 cables to replace the original ones.
Check out the below recommendation to find most compact charging gear for hopping between meetings and workspaces: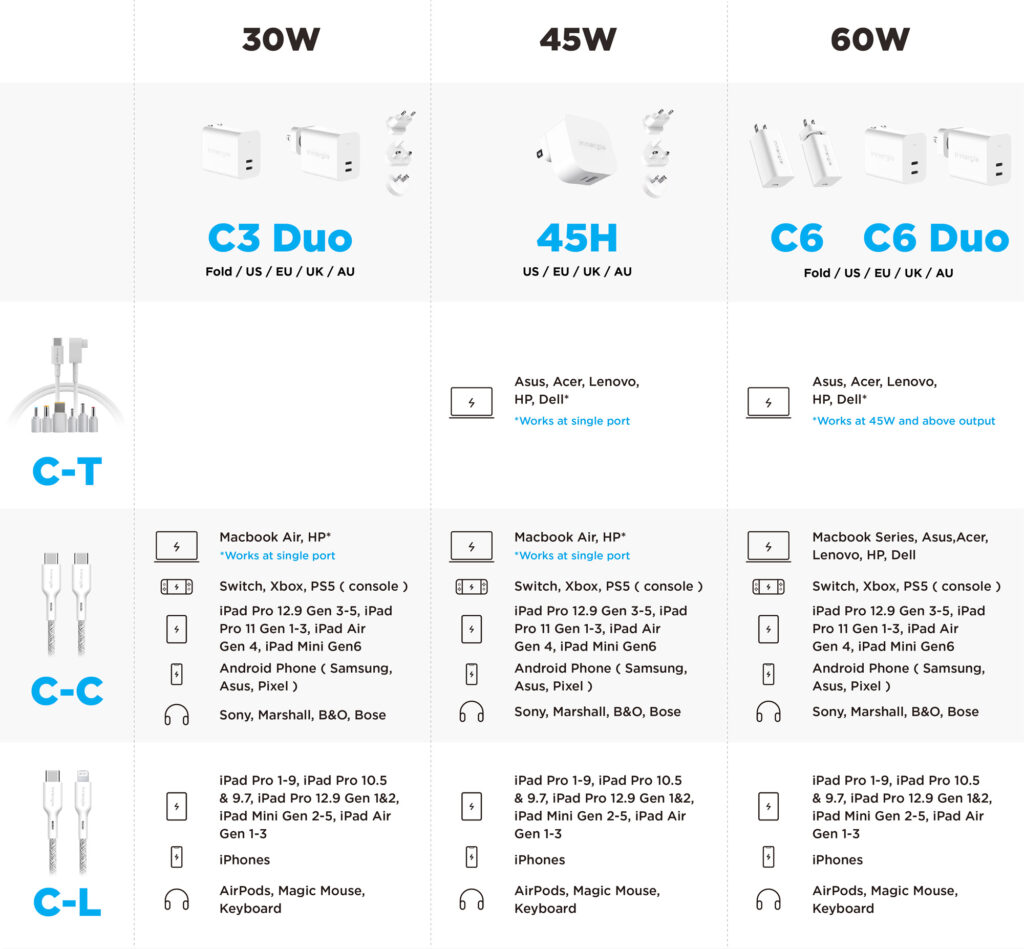 Pick your product from a reliable brand
Electricity can be dangerous if the adapters and cables do not fulfill the safety standard, use low quality material, or poor circuit design. Go for reliable manufacturer since they have higher corporate standard and inspection on their suppliers to ensure the material quality and production SOP.
For example, Innergie utilized the power technology and supply chain of Delta, the biggest global manufacturer for original laptop adapters, such as HP, Dell, and Asus to ensure Innergie products, from cables to adapters, are durable, stable and efficient.
Upgrade cables for your USB-C adapter
Innergie recently upgraded the USB-C to USB-C (C-C) cable from 3A to 5A, with the E-Marker IC. The new Innergie C-C cable can deliver up to 100W power when both adapter and device support 100W charging.
The Innergie USB C-Lightning (C-L) 1.8m cable is certified with Apple MFi, which means it is compatible with Apple devices. It can fast charge your iPhone with 3A, where a USB A-Lightning cable is normally at 2.4A, and secure 480 Mbps data transfer rate.
USB-C to Laptop Tip (C-T)  is a special and patented product of Innergie. The removable tip design gives you the option to keep your cable even you change your laptop to a new brand or series that has completely different charging tip. We offer Free Tip Program if you don't find the default tips coming with the order.