What is USB?
"USB" stands for "Universal Serial Bus", which is a technical standard that establishes specifications for cables, connectors and protocols for connection, communication and power supply (interfacing) between computers, peripherals and other computers.
Currently, the USB-A, Mini-B, Micro-B, Lightning, and USB-C are the most common types of USB connectors in the market.
If you are born before 2000, you probably know all these charging connectors.
The Standard, Mini, and Micro versions of type-A and type-B are the default or standard format intended for desktop or portable equipment before the release of type-C.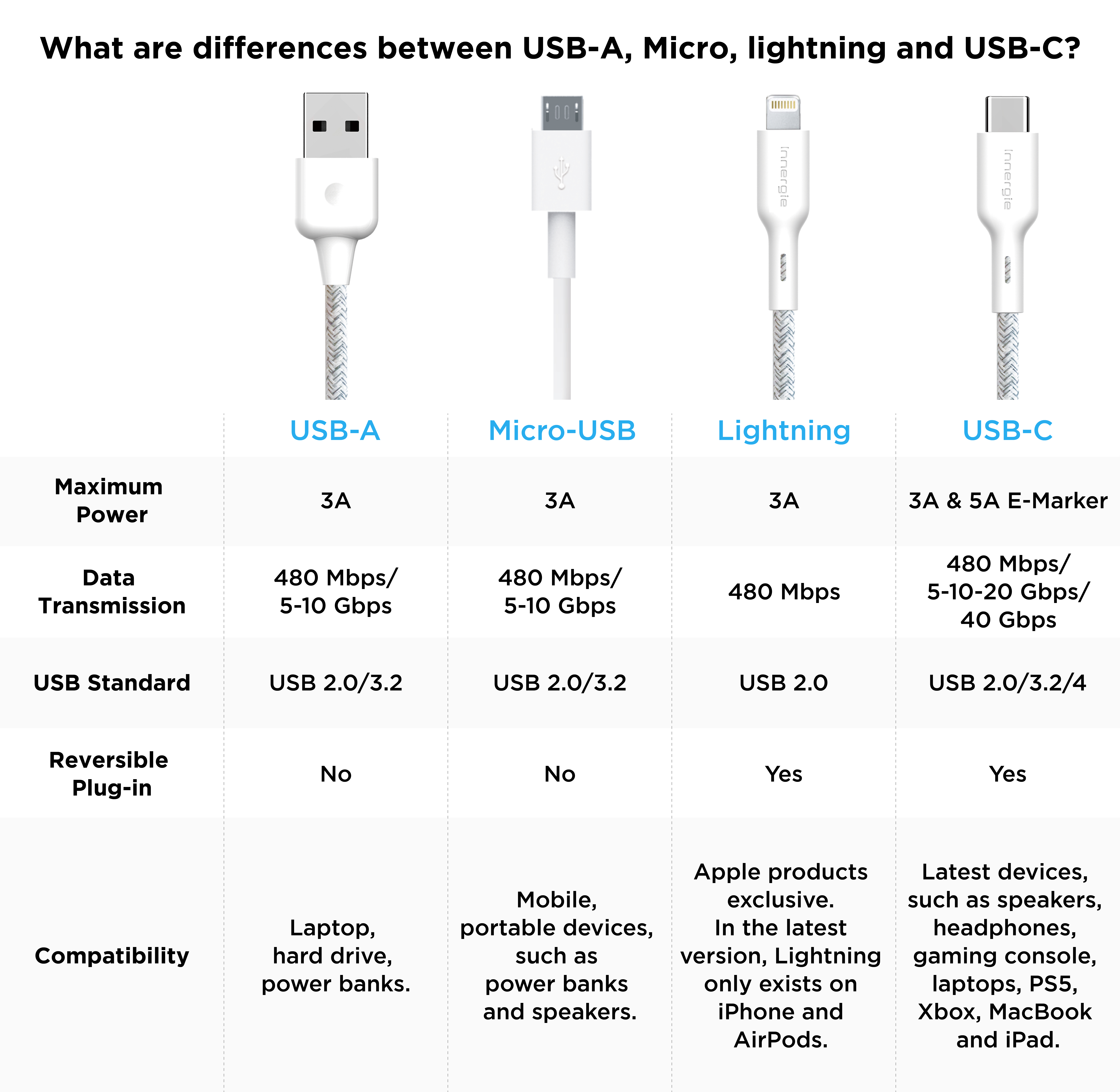 USB-A
USB-A is commonly called USB or type-A. It is the most iconic and well-known connector. The USB-A ports are often found on laptops or adapters to receive data and power input. USB-A is gradually fading out from the market as it doesn't have the advantage in size and number of pins to fulfill upcoming technical needs.
Micro-USB
In 2009, Micro USB replaced Mini USB for its better durability and slimmer size and became the global charging connector standard until the specification of USB-C was finalized by 2014. Mini USB was designed for mobile and portable devices to fit the dramatically reduced thickness of mobile and portable devices. 
Lightning
Lightning has been the exclusive Apple connector interface since 2012. The best feature of Lightning is probably the reversible connection. With the higher power demand for more advanced specifications in Apple devices, Apple introduced USB-C to iPad and MacBook. There is a theory that Apple will eventually remove the Lightning connector from iPhone and AirPods.
USB-C
Some people also call it type C or USB type C. Starting from 2015, more and more electronics manufacturers introduced USB-C connectors into their products, such as Nintendo Switch, Android smartphones, MacBook, and iPad. According to the latest USB and PD standards, USB-C can support 40 Gbps data transfer rate and 48V/5A (240W) power delivery, which tells us that the application of USB-C will be more diverse and might be built into higher power devices such as home appliances.
Future global standard connector – USB-C
USB-C tackles many limitations, including the irreversible USB challenge since 1996. USB-C can hopefully become the true global standard connector shortly with its versatility and high-efficiency characteristics.
In addition to the high performance and efficiency, connector unification to USB-C will allow cables to be reused or shared between devices, which help to reduce electronic waste and improve resource utilization efficiency – a more sustainable and responsible way to consume.