Same as what Apple announce in 2020, iPhone newest series will not include a power adapter or earbuds. You need to find power adapter separately for your iPhone 13 & 14. In the market, you can find a lot of choice of 20W Power adapter which also can charge your smart phone. 
However we would like to recommend you 30W Power Adapter for iPhone 13/14. Tests find iPhone 13/14 Pro Max has higher 27W Charging Speeds, which if you used 30W Adapter you can fully charge it within 1 hours. Beside it, 30W Power adapter can also pair with the 13-inch MacBook Air. 
Innergie C3 Duo 30W Power adapter comes with 2 USB-C ports, which you can charge 2 devices directly. Comes with Dynamic Power Allocation, when you charge One device (it is up to 30W) and two devices (it is up to 15W Per port, 24W Max).
It has more benefit, if we compare Innergie C3 Duo and Apple 30W. Innergie C3 Duo come with smaller size, 2 USB Type C ports, and 3 years warranty.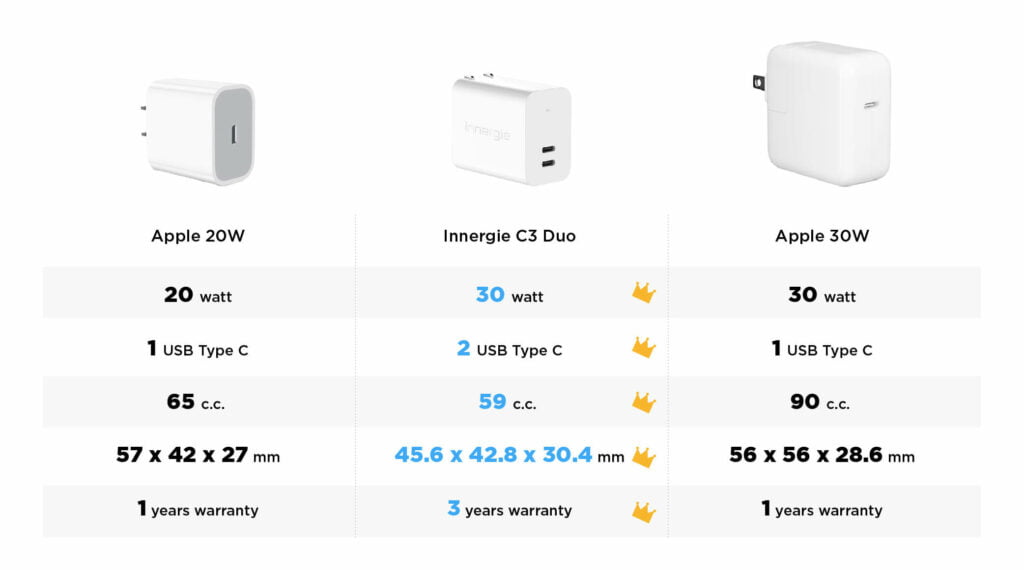 Wherever you are at home, in the office or on the go. You can just use C3 Duo to charge iPhone 13/14, Tablet, Airpod, and 13-inch MacBook Air.